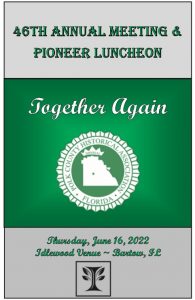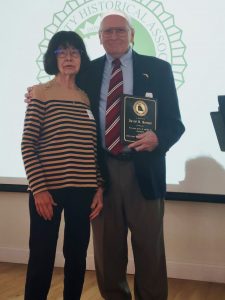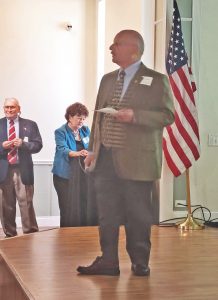 After a two-year hiatus, PCHA members were happy to be "together again" for the Annual Meeting & Luncheon on June 16. Attendees enjoyed great fellowship and food at the beautiful Idlewood Venue in Bartow. During the business meeting, reports were presented from the President, Treasurer, Heritage Partner Committee and Nominating Committee. 
A motion was approved to accept the following revisions to the ByLaws: Section 1, Article 1:  Insert the PCHA Mission Statement Section  2, Article 1:  Replace the language about dues with the following sentence:  The Association's Board of Directors will establish classifications of membership and annual dues for   each classification as deemed appropriate.
Motions were approved to accept the 2022-23 slate of officers (Lloyd Harris, President; Jennifer Bush, Vice President; Rod Hudnell, Treasurer; David H. Brewer, Assistant Treasurer; Lois Sherrouse-Murphy, Secretary; LuAnn Mims, Communications Editor) and the Board of Directors (Jennifer Bush, S.L. Frisbie IV, John Keating, Lyonal B. Lindsey Jr., Harriet Rust, Melvin Sellers, Sheila Tindle, Donald H. Wilson, Myrtice Young).  
Following the business meeting, the Polk Pioneers for 2020-2022 were honored.