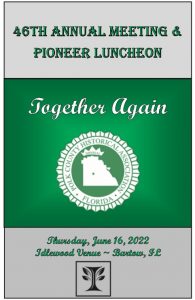 After a two-year hiatus, PCHA members were happy to be "together again" for the Annual Meeting & Luncheon.
This year's event was held on June 16, at the Idlewood Venue in Bartow.
PCHA members enjoyed great fellowship and food, and had an opportunity to meet our Polk Pioneers. 
Congratulations to our Polk Pioneers for 2020, 2021 and 2022:  Walter Covington Jr., S.L. Frisbie IV, Ora H. Greene, Edgar T. Pickett Jr., Leslie G. Pickett, Harriet Rewis Rust, and Herbert L. Woodard.