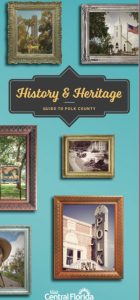 Architecture, museums, historical markers, festivals, walking tours and more! Polk County abounds in opportunities to discover history, heritage and culture. And spring is the perfect time of year to get out and enjoy all that Polk County has to offer. 
Download the History & Heritage Guide to Polk County for information and maps to plan your experience. 
You can also check out the websites of our Heritage Partner organizations for details on their local events and programs.