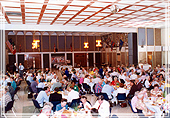 ---
Since 1975, the PCHA has honored residents who have lived in Polk County for 50 years or more. These Polk Pioneers participate in an interview to document their lives and contributions to our rich history. Pioneer honorees are recognized at the Annual Pioneer Luncheon and PCHA Business Meeting that is traditionally held in June at the Bartow Civic Center. Attendees enjoy a delicious lunch and special program.
2020 Polk Pioneers
Walter Covington Jr.
S.L. Frisbie IV
Ora H. Greene
Edgar T. Pickett Jr.
Harriet Rewis Rust
2019 Polk Pioneers
‒ Elna Combee Bowen, 97, a fourth-generation Polk Countian, who grew up in Davenport, where her father, Daniel Boone Combee, worked in citrus and made chair seats from the skins of animals in the area. After graduating from Haines City High School, she married Jean Bowen in 1939 and together, they managed the 5,000-acre Crescent Valley Ranch owned by P.E. Williams. While her husband fought in World War II, Bowen became the ranch foreman.