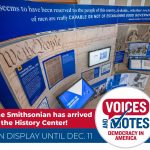 Now until Dec. 11, the Polk County History Center is hosting the traveling exhibit "Voices & Votes: Democracy in America," as part of a partnership with the Smithsonian Institution and Florida Humanities. From the revolution and suffrage to civil rights and casting ballots, everyone in every community is part of this ever-evolving story—the story of our American democracy. The exhibition explores historic events and poses thought provoking questions for today's citizens.  
Hear what Polk County leaders and community members have to say about democracy and the importance of sharing your voice by casting your vote. Voices & Votes interviews>>
Check out this and other exhibits at the Polk County History Museum, 100 East Main Street in Bartow, Florida. 
Since the June Polk Pioneer Luncheon was cancelled due to COVID, many of our members missed the opportunity to pay their dues during the Annual Business Meeting. If you haven't yet paid your dues for the 2020-21 year, click here for membership levels and mailing address.
Not a member?  We invite you to join our efforts to preserve and promote Polk County history!   Membership information >>