A Brief History cont'd. 
In the first year, membership soared to over 400. The first Pioneer Luncheon was held in 1975. The annual tradition of video-taping Polk County residents 79 years of age or older had begun. Monthly meetings with displays of artifacts and talks by historical authorities, the publication of the PCHA "Historical Quarterly" and a monthly newsletter were initiated. In addition, more than 300 historic photographs were sent to the State Photographic Archives for preservation and public access. PCHA received in return both the original pictures and archive reproductions for its own collection.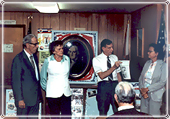 The "Polk County Historical Quarterly," has been described as the best of its kind in the state. It has attracted members throughout Florida and in other states, and members have been courage to write and submit stories about their personal experiences for publication in its pages. Louise Frisbie was the first editor (1974-78) creating the original format. The second editor (1978) was Dr. Charles Thrift Jr., whose tenure was cut short by illness. Guest editors (1978-81) continued the work until Freddie Wright became editor (1981-2002), assisted by her husband, Hugh Wright (1996-2002), followed by James V. Holton (2002-2006); Randall McDonald; Odell Robinson. The current editor is LuAnn Mims who has served as Editor since 2017. In 2015, the Quarterly changed its name to Polk Proud History.
The PCHA Historical Calendar was published for ten years, edited by Marie Bouker (1981-86) and Hazel Bowman (1987-90). Syble Young designed the logo that is still the basic symbol of PCHA today.  By its tenth birthday luncheon PCHA membership was 1125. In addition to monthly meetings, the group sponsored field trips to historic areas in surrounding counties. A stunning array of well-known politicians, historians, civic-leaders, ministers, authors, judges and county officials from across Florida attended the annual pioneer luncheon bringing capacity audiences to the Bartow Civic Center. Lucy DuCharme and Mike Brown, volunteers from the School Board office, provided camera work while Walter Crutchfield and in recent years S. L. Frisbie, publisher of the "Polk County Democrat," interviewed the "pioneers" to preserve their valuable living memories.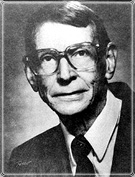 Glenn Hooker served as president for seventeen years (1974-91). He worked with Bud Dixon and the Polk County Historical Commission to obtain suitable housing for the Polk County Historical Library. An early attempt to build a museum and library on land donated by the City of Bartow failed for lack of funds. However, when the historic 1908 Polk County courthouse at Bartow became available, the Board of County Commissioners successfully converted it to the Historical and Genealogical Library (1986) and Historical Museum (1998). Today both continue their excellent service to the public.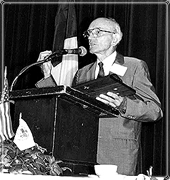 Arthur Bissett (1991-92) followed Glen Hooker as president. He emphasized inclusion of every area of the county in PCHA affairs, especially the growing northeastern portion. Lloyd Harris (1992-94) and Bob Bass (1994-96) used their presidencies to develop Homeland Heritage Park. The PCHA office relocated to Homeland and volunteers contributed time to refurbishing the historic buildings collected from around Polk County.  Carolyn Girtman prepared weekly lunch for members on Wednesdays and also secured the gift of a stove, refrigerator and water heater from local businesses. PCHA contributed funding for volunteers who kept the Park office open for workers and visitors. Upon the Grand Opening of Homeland Heritage Park on September 24, 1994 the PCHA office moved back to Bartow.
Since 1996 the PCHA has been involved in a number of worthwhile endeavors. In 1999, PCHA worked with members of the Bartow Neighborhood Improvement Corporation. Sponsored by the Florida Humanities Council, a yearlong project to preserve African-American history evolved into an annual community festival at the L. B. Brown House in Bartow. The PCHA has also sponsored the development of exhibits at the Polk County History Center, including Spessard L. Holland: Polk County's Statesman in 2016 and the Polk County Arts & Culture Gallery in 2018.